The Home Stretch: Driveway Paving in NJ
The importance of high-quality
driveway paving in NJ
cannot be emphasized enough. After all, your driveway is a critical part of your home. It is the last leg of your journey before you arrive at home sweet home; it is quite literally the "home stretch" before you get to kick up your feet and relax in your residence. The driveway connects your home to the infrastructure of the world. It is your pier, your wharf, your docking station. As such, the driveway is also an important element of your home's overall design. Even if the driveway is the last thing you see when you get off the roads, it is the first thing you see when you approach your home and the first thing you see when you leave. A good, smoothly paved driveway makes for a smooth take-off and landing, and makes a key first impression on you as well as your guests. But if it is not well-paved or maintained, a bumpy driveway will be the first thing that jumps out at guests and people who approach your home.
At McFarlane Paving, we understand that the driveway is more than a storage space for your vehicle; for example, many of our customers tell us about how the driveway is a place where their children play, which makes good driveway paving in NJ so much more important. After all, a driveway with a basketball hoop set up at its edge is synonymous with suburban American culture, and the playful scrawling of sidewalk chalk conjures nostalgic memories in all of us. Perhaps your driveway serves as your base of operations when you decide to tackle yardwork, or acts as the sales floor when you host a garage sale. All of these things lose their appeal when a driveway is cracked, uneven, or crumbling. Keeping the paving finely tuned is a great way to ensure you and your kids have somewhere fun, safe, and durable to go for work and play.
How McFarlane Paving can Help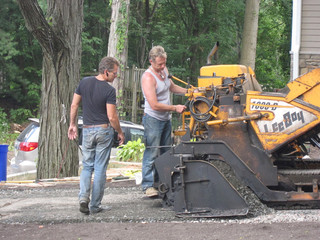 Oftentimes the things that affect our driveways are beyond our control. Natural erosion occurs over time, or can be accelerated by stormy weather. Vehicles with leaks can contribute to damaging a driveway with fluid emissions, and simple wear and tear from use can eventually manifest cracks and stress faults. However,
driveway paving in NJ
has come a long way in the last few years, and McFarlane Paving has both the tech and the techniques to build lasting driveways that can stand up to even the toughest tests of time. Our team will treat your driveway as if it were their own, whether you are just looking for a patch job or a full reinstallation. This means no inch is left unloved and no corner is left untreated.
Call McFarlane Paving today at 201-664-2696 for a free estimate, and learn more about what our services can do for you!